953 Views
."Quinceañera" is a Latino Girl's Coming-of-Age Celebration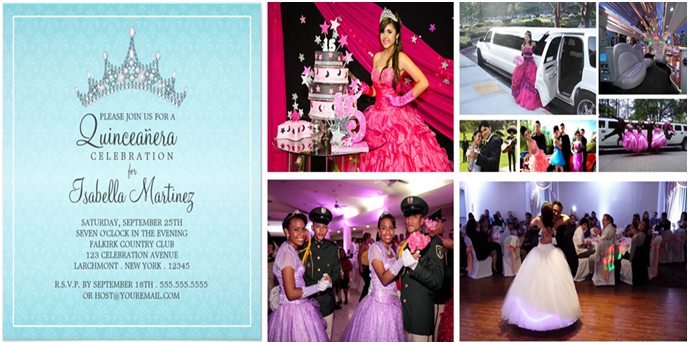 What is the Meaning of the Word Quinceañera?
"Quinceañera" is the Spanish word for a girl who is 15 years old. The word is a combination of two words, quince which means 15 and anos which means years. It is a popular celebratory event among Latinos in the United States, the fiesta de quince años (also fiesta de quinceañera, quince años and quince) is the coming-of-age gathering or party held to celebrate a Latino girl's 15th birthday. It is a social event that marks the journey of a girl into womanhood. The celebration can be a simple home party with immediate family and relatives, to a special Catholic Mass, to a very formal post-Mass affair with expensive linen invitations, gorgeous venues, hired music, amazing food, lots of gifts, and often very beautiful Quinceañera limousines and Quinceañera party bus limos. The celebration itself is simply called "A Quinceañera Celebration!"
What is the History of Quinceañera?
The Quinceañera celebration has its origins many hundreds of years ago when both boys and girls participated in numerous rites of passage traditions. In modern times, quinceañera is celebrated among Latin communities all over America and it can often be a lavish affair with several events in the whole celebration. This transition of a girl into womanhood is also called a Sweet 15 and this event is largely celebrated in Mexican and South American cultures.
It is also a day that is filled with various emotional and spiritual undertones that consist of the young girl giving thanks for reaching the age of 15. Family members, relatives and friends are always involved in planning the various parts of the celebration and it is a matter of pride for them to get the responsibility of managing the celebration.
As per the customs, the young girl or the Quinceañera is dressed in a celebratory dress that includes a ball gown, a tiara, and gloves. The girl also carries several accessories such as her last doll, a special kneeling pillow, a photo album, guest signature book, a Bible and a rosary.
The whole celebration has many different parts such as the thanksgiving ceremony, reception, banquet and last but not the least the quinceañera waltz. The waltz is the highlight of the event and it is followed by cake cutting and toast.
What Types of Vehicles Transportation Services are Typically Hired for a Formal Quinceañera? 
Luxury stretch limousines and Quinceañera go together beautifully and are a joyful combination that high-end limousine companies like Aspen Limo and Car Services in Minneapolis have been proud to be a part of for many years! You can be confident that Aspen Limo has years of experience chauffeuring the honored young woman, her family, and her friends to celebration events, mass, dances and dinners. The company always treats the once-in-a-lifetime experience with the upmost respect and exceptional service level that it deserves! In many ways, Minneapolis Quinceañera transportation services are much like the wedding transportation services any formal wedding ceremony and celebration might require.
An all-Inclusive Quinceañera Limo Company Transportation Service Could Include:
Pre-or-post Quinceañera party-bus experience for the 15-year-old girl with her young friends
Stretch limousines
Stretch SUV limousines
Stretch H2 Hummer stretch limousines
Party-bus limousines
Pre-Quinceañera family-only dinner transportation
Small group SUVs
Small group executive high-top passenger vans
Stretch limousines
Airport pick-up and drop-off services for out-of-town guests
Town cars
Small group SUVs
Small group executive high-top passenger vans
Stretch limousines
Transportation for visitors from a central hotel to the Quinceañera Mass and/or celebration venue
Small group SUVs
Small group executive high-top passenger vans
Large group luxury shuttle buses
Transportation for the 15-year-old Quinceañera with her mother and father to Mass and or the Quinceañera celebration
Town cars
Luxury sedans
Small group SUVs
Stretch limousines
A great way to see a fleet of luxury chauffeured vehicles to choose from for your daughter's Quinceañera transportation needs is found at www.AspenLimo.net/fleet
Call Minneapolis AspenLimo.Net at 612-590-8000 for Your Own Soon-to Be Quinceañera!